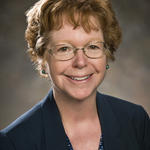 Marjorie L. McLellan
Title:
Associate Professor Emeritus
Associate Professor, Department of Urban Affairs and Geography. 
Ph.D., American Studies, University of Minnesota, 1991.
Dr. McLellan has a joint appointment in Urban Affairs and Geography and the Department of History.  She serves on the Wright State University Community Engagement Council.  Her scholarship includes oral history and museum studies as well as social studies education, civic engagement, and public humanities. She is the author of Six Generations Here: a Wisconsin Farm Family Remembers (Wisconsin Historical Society, 1997, 2013) and Hunting for Everyday History: a Field Guide for Teachers (2003). She directed the graduate program in Public History in the Department of History, 2000-2007 and the Center for Service-Learning and Civic Engagement between January, 2014 and July, 2015. She served on the board of Ohio Humanities, the state humanities council, for seven years; chairing the board from 2011 through 2013. She served on the board of Cityfolk, a folk, jazz, and traditional arts presenting organization, from 2005-2010 and on the Ohio Historical Records Advisory Board from 2004-2008. She has written grants funded by the U.S. Department of Education, the National Endowment for the Humanities, the Institute for Museums and Library Services, the Corporation for National and Community Service, and other organizations. She is an affiliate faculty member in both Women's Studies and Humanities.  She also advises students in the Youth and Community Engagement minor and the Nonprofit Leadership Alliance student organization. She will serve as acting director of the Nonprofit Administration certificate program in the Department of Urban Affairs and Geography from July, 2015-July, 2016.
Is this you?
Log in
to update your profile.