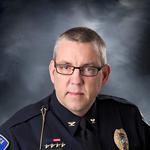 Mark Ernst,
MS
Department:
Lake Campus Liberal Arts
Title:
Instructor, Criminal Justice Police Academy Commander
Address:
Dwyer Hall 243, 7600 Lake Campus Dr, Celina, OH 45822-2921
Instructor Ernst has over thirty years of law enforcement experience.  He is a veteran of the United States Army Military Police Corps and retired from the St. Marys, Ohio Police Department as Chief of Police.  Instructor Ernst other assignments while working in the field of criminal justice include Narcotics Investigator, Personal Security Detail, Bike Patrol, Patrol Sergeant, Police Academy Instructor, Police Academy Commander, Corrections Academy Instructor, Corrections Academy Commander and Polygraph Examiner.
Education History
2003 Vincennes University - Associates Degree Law Enforcement
2008 Tiffin Univeristy - Bachelor Degree Criminal Justice
2009 Tiffin University - Masters Degree Criminal Justice
2016 Ohio Chief's of Police Association - Certified Law Enforcement Executive
Teaching
Instructor Ernst teaches the following courses at the Lake Campus
LE1000 Introduction to Law Enforcement
LE1010 Criminal Law for Law Enforcement
LE1020 Introduction to Criminal Procedures
LE1030 Introduction to Criminal Evidence Procedures
LE1040 Procedures in Criminal Investigation
LE1070 Criminal Justice Ethics
LE1100 Police Academy
LE2990 Law Enforcement Internship
PLS3410 Fundamentals of Criminal Investigation
PLS3440 Police Procedures and Operations
PLS4310 Cyber Crime
PLS4350 Political Corruption
PLS4360 Criminal Law
PLS4420 Criminal Justice Systems
PLS4720 International Terrorism
SOC2000 Introduction to Sociology
SOC3000 Criminal Justice/Family Internship
Ohio Peace Officer Instructional Skills Course
Ohio Peace Officer Training Academy Curriculum
Ohio Corrections Officer Academy Curriculum
Ohio Court Officer Academy Curriculum 
Professional Affiliations/Memberships
Coldwater Police Department - Part-time Officer
Fraternal Order of Police
Ohio Association of Polygraph Examiners
Police & Fire Retirees of Ohio 
Awards/Recognition
1988 Army Achievement Medal
1998 Commendation Grand Lake Drug Task Force
2004 American Legion Law Enforcement Officer of the Year
2007 Master Criminal Investigator, Ohio Peace Officer Training Academy
2009 Fraternal Order of Police Law Enforcement Officer of the Year
2018/2019 Wright State University Lake Campus Outstanding Instructor Teaching Award
Is this you?
Log in
to update your profile.