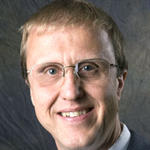 Mark Monroe Rich,
M.D., Ph.D
Department:
NeuroSci Cell Bio Physiology-SOM
Title:
Professor, Neuroscience Cell Biology & Physiology; Professor, Neurology
Address:
NEC Building 313, 3640 Colonel Glenn Hwy
Research Statement
I am an MD/PhD with fellowship training in neuromuscular disease and 25 years of experience in both clinical and basic science studies of electrophysiologic deficits in neuromuscular disease.  The overall goal of my lab is to identify drugs that can be rapidly translated to therapy for patients with neuromuscular disease.  My focus is on electrophysiologic defects in peripheral nerve, the neuromuscular junction and skeletal muscle.  I have published 91 articles that include studies on electrophysiologic defects in myasthenia gravis, Lambert Eaton myasthenic syndrome, critical illness myopathy and neuropathy, spinal muscular atrophy, ALS, a primary myopathy in Huntington's disease, as well as dysfunction of sensory encoding in chemotherapy induced neuropathy.  Currently my lab is focused on dysregulation of muscle excitability in various genetic diseases of muscle. My lab has been continuously funded by NIH for over 25 years and is currently funded by both NIH and the Muscular Dystrophy Association.  
Publications
Since 2015
Novak KR, Norman J, Mitchell JR, Pinter MJ and Rich MM (2015) Sodium channel slow inactivation as a therapeutic target for myotonia congenita.  Annals of Neurology 77(2):320-32.  PMID: 25515836.
Barnes BT, Confides AL, Rich MM Dupont-Versteegden EE (2015) Distinct muscle apoptotic pathways are activated in muscles with different fiber types in a rat model of critical illness myopathy.  Journal of Muscle Research and Cell Motility 36(3):243-53.  PMID: 25740800.
McGovern VL, Massoni-Laporte A, Wang X, Le TT, Le HT, Beattie CE, Rich MM, Burghes AHM (2015) Plastin 3 Expression Does Not Modify Spinal Muscular Atrophy Severity in the Δ7 SMA Mouse. PLOS 1 10(7):e0132364.  PMID: 26134627.
Friedrich O, Reid MB, Van den Berghe G, Vanhorebeek I, Hermans G, Rich MM, Larsson L (2015) The Sick and the Weak: Neuropathies/Myopathies in the critically ill - Cellular Mechanisms of complex Disease Entities in the ICU.  Physiological Reviews 3:1025-109.  PMID: 26133937.
Wang X, Pinter MJ, Rich MM (2016). Reversible Recruitment of a Homeostatic Reserve Pool of Synaptic Vesicles Underlies Rapid Homeostatic Plasticity of Quantal Content. Journal of Neuroscience 36(3):828-36. PMID: 26791213.
Nardelli P, Vincent JA, Powers R, Cope TC, Rich MM (2016) Reduced motor neuron excitability is an important contributor to weakness in a rat model of sepsis. Experimental Neurology 282:1-8.  PMID: 27118372.
Vincent JA, Wieczerzak KB, Gabriel HM, Nardelli P, Rich MM, Cope TC (2016) A Novel Path to Chronic Proprioceptive Disability with Oxaliplatin: Distortion of Sensory Encoding. Neurobiology of Disease 95:54-65. PMID:27397106.
Rudnick ND, Griffey CJ, Guarnieri P, Gerbino V, Wang X, Piersaint JA, Tapia JC, Rich MM, Maniatis T. (2017) Distinct roles for motor neuron autophagy early and late in the SOD1G93A mouse model of ALS. PNAS 114(39):E8294-E8303. PMID:28904095.
Hawash AA, Voss AA, Rich MM. (2017) Inhibiting persistent inward sodium currents prevents myotonia. Annals of Neurology. 82:385-395. PMID: 28833464.
Khedraki A, Reed EJ, Romer SH, Wang Q, Romine W, Rich MM, Talmadge RJ, Voss AA. (2017) Depressed Synaptic Transmission and Reduced Vesicle Release Sites in Huntington's Disease Neuromuscular Junctions. Journal of Neuroscience 37(34):8077-8091. PMID: 28724748.
Arnold WD, Kline D, Sanderson A, Hawash AA, Bartlett A, Novak KR, Rich MM, Kissel JT. (2017) Open-label trial of ranolazine for the treatment of myotonia congenita.  Neurology. 89:710-713. PMID: 28710329.
Nardelli P, Powers R, Cope TC, Rich MM. (2017) Increasing motor neuron excitability to treat weakness in sepsis. Annals of Neurology. 82(6):961-971. PMID:29171917.*
*  Featured as an Editor's Choice in Science Translational Medicine: http://stm.sciencemag.org/content/9/420/eaar4432.full
Wang X, Rich MM. (2018) Homeostatic synaptic plasticity at the neuromuscular junction in myasthenia gravis.  Ann N Y Acad Sci. 1412(1):170-177. PMID:28981978.
Wang X, McIntosh JM, Rich MM.  (2018) Muscle Nicotinic Acetylcholine Receptors May Mediate Trans-Synaptic Signaling at the Mouse Neuromuscular Junction.   Journal of Neuroscience 38(7):1725-1736. PMID:29326174
Lorusso S, Kline D, Bartlett A, Freimer M, Agriesti J, Hawash AA, Rich MM, Kissel JT, David Arnold W.  (2019) Open-label trial of ranolazine for the treatment of paramyotonia congenita. Muscle Nerve. 59(2):240-243. PMID:30390395
Dupont C, Denman KS, Hawash AA, Voss AA, Rich MM. (2019) Treatment of myotonia congenita with retigabine in mice. Exp Neurol. 315:52-59. PMID:30738808
Metzger S, Dupont C, Voss AA, Rich MM. (2020) Central Role of Subthreshold Currents in Myotonia. Annals of Neurology. 87:175-83. PMID: 31725924
Chugh D, Iyer CC, Wang X, Bobbili P, Rich MM, Arnold WD. (2020) Neuromuscular junction transmission failure is a late phenotype in aging mice.  Neurobiol Aging. 86:182-190. PMID: 31866157
Wang X, Burke SRA, Talmadge RJ, Voss AA, Rich MM. (2020)  Depressed neuromuscular transmission causes weakness in mice lacking BK potassium channels. J Gen Physiol. PMID:32243496
Dupont C, Novak K, Denman K, Myers JH, Sullivan JM, Walker PV 2nd, Brown NL, Ladle DR, Bogdanik L, Lutz CM, Voss A, Sumner CJ, Rich MM. (2020) TRPV4 antagonism prevents mechanically-induced myotonia. Annals of Neurology PMID: 32418267
Miranda DR, Reed E, Jama A, Bottomley M, Ren H, Rich MM, Voss AA. (2020) Mechanisms of altered skeletal muscle action potentials in the R6/2 mouse model of Huntington's disease. Am J Physiol Cell Physiol. PMID: 32432924
Housley SN, Nardelli P, Powers RK, Rich MM, Cope TC. (2020) Chronic defects in intraspinal mechanisms of spike encoding by spinal motoneurons following chemotherapy. Exp Neurol PMID: 32511953
Awards/Recognition
       2010                     Elected as a member in the American Neurological Association
       2013                     Wright State University Innovation in Medical Education Award   
       2017                     Wright State University Trustees Award for Faculty Excellence
       2017                     Wright State University Faculty Mentoring Award
       2019                     Wright State Academy of Medicine Outstanding Senior Faculty Achievement Award
       2019                     Selected as University Professor 
Is this you?
Log in
to update your profile.