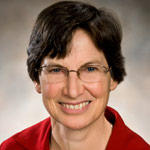 Mary T. White
Department:
Population and Public Health Sciences
Dr. White is a professor in the Department of Population and Public Health Sciences and Director of Medical Humanities at the Boonshoft School of Medicine.  She teaches courses in medical ethics and humanities, public health ethics, and global health, and participates in basic science courses and clinical clerkships.  Dr. White's global health experience includes a sabbatical at Mbarara University of Science and Technology in Uganda, teaching and research partnerships with the University of Gondar in Ethiopia, and ongoing involvement with the Kossoye Development Project in Ethiopia. Dr. White joined the faculty at the Boonshoft School of Medicine in 1995. 
Education History:
Ph.D., Institute for Medical Humanities, University of Texas Medical Branch, 1995
M.Div., Harvard Divinity School, 1987
Ed.D., Harvard Graduate School of Education, 1987
B.A., Cum Laude Biology, Middlebury College, 1978
Academics
Teaching:
Courses and Electives Taught
Social and Ethical Issues in Medicine
Ethics and Psychiatry (PGY-III Residents)                              
Women and Medicine 
Women's Reproductive Health
Health Care in Developing Countries
Future Directions in Global Health     
Literature and Medicine      
Environment and Health                                 
Public Health Ethics and Policy
Race, Sex, and Gender in Medical Education
Course Participation
Blood Course
Endocrine and Reproduction
Neuroscience                                                  
Renal                                                 
Molecular, Cell, and Tissue Biology   
Introduction to Clinical Medicine II
Third-year clerkships: Internal Medicine, Psychiatry, Women's Health, Surgery, Pediatrics      
Research statement:
Research interests include ethical issues in genetic testing and counseling, research ethics, global health ethics, end-of-life care, and decision-making. 
 
Selected Publications
Parikh, PP, White, MT, Smith, L, Tchorz, KM (in press) Evaluation of Palliative Care Training and Skills Retention by Medical Students.  Journal of Surgical Research.
MT White (2016) Musical Activity across the Lifespan as it contributes to Quality of Life.  International Journal of Community Music 9(2):157-170.
Parikh, PP, Brown, R, White, MT, Markert, RJ, Eustace, R, Tchorz, K (2015) End-of-life care training: Assessment of skills and perceptions. Journal of Surgical Research 196(2): 258-63.
White MT (2014) Uncharted Terrain: Preference Construction at the End of Life, Journal of Clinical Ethics. 25(2): 120-130.
White MT and Evert JE (2014) Developing Ethical Awareness in Global Health: Four Cases for Medical Educators.  Developing World Bioethics. 14(3): 111-116.
White MT and Worku N (2013) Administrative Needs of Academic Partnerships at One Ethiopian University: A Pilot Study.  Ethiopian Medical Journal. 51(3): 203-7.
Tchorz KM, Binder SB, White MT et al. (2013) Palliative and End-of-Life Care Training During the Surgical Clerkship, Journal of Surgical Research. 185(1): 97-101.
Woldetsadik MA, Sendekie TY, White, MT, Zegeye  DT (2011) Client preferences and acceptability for medical abortion and MVA as early pregnancy termination method in Northwest Ethiopia.  Reproductive Health 8:19.  Available at: http://www.reproductive-health-journal.com/content/8/1/19
White MT, Borges, NJ, Geiger, SB (2011) Perceptions of Factors Contributing to Professional Identity Development and Specialty Choice: A Survey of Third and Fourth-Year Medical Students.  Annals of Behavioral Science and Medical Education. 17(1):18-23.
White, MT (2009) Making Sense of Genetic Uncertainty: The Role of Religion and Spirituality.  American Journal of Medical Genetics Part C Seminars in Medical Genetics 151C: 68-76.
Tchorz K, Binder SB, White M, Lawhorne L, Bentley D, Delaney E, Borchers J , Miller M, Barney L, Dunn M (2008) OSCE Training in Ethics and Palliative Care: A Pilot Study During the Surgical Clerkship.  Journal of Surgical Research 144(2): 184-185.
White, MT (2007) Assessing Ethical Expertise: Lessons Learned from a Final Exam in a First-Year Ethics Course.  Journal of the International Association of Medical Science Editors 17(2S): 9.
White MT (2007) Uncertainty and Moral Judgment: The Limits of Reason in Genetic Decision-Making. Journal of Clinical Ethics 18(2):148-155.
White MT (2007) A Right to Benefit from International Research: A New Approach to Capacity Building. Accountability in Research: Policies and Quality Assurance 14:73-92.
White MT, Cauley KL (2006) A Caution against Medical Student Tourism. Virtual Mentor. 8(12):851-854.
White MT (2006) Religious and Spiritual Concerns in Genetic Testing and Decision-Making: An Introduction for Pastoral and Genetic Counselors. Journal of Clinical Ethics 17(2):158-167.
White MT (2006) Diagnosing PVS and Minimally Conscious State: The Role of Tacit Knowledge and Intuition.  Journal of Clinical Ethics 17(1):62-71.
White MT (2005) Bioethics without a Map, Medical Humanities Review 19(1&2): 9-12.
White, MT (2004) Firefighting at the Bedside.  Medical Humanities Review 17(1):41-45.
White, MT, Gamm, J (2002) Informed Consent for Research on Stored Blood and Tissue Samples: A Survey of Institutional Review Board Practices.  Accountability in Research: Policies and Quality Assurance 9:1-16.
White, MT (2002) Why Not Medical Humanities?  The American Journal of Bioethics 2(4):34.
White MT, Lemkau JP, and Clasen M (2001) Fibromyalgia: A Feminist Biopsychosocial Perspective. Women and Therapy 23(1): 45-58.
White MT (2000) Genetic Susceptibility Research in Occupational Disease: Should Subjects have Access to Interim Findings?  Journal of Occupational and Environmental Medicine 42(3):246-250.
White, MT (2000) Prenatal Diagnosis: Spiritual Challenges in Genetic Testing and Counseling.  The Park Ridge Center Bulletin 13:9-10.
White MT (1999) Underlying Ambiguities in Genetic Privacy Legislation.  Genetic Testing 3(4): 341-345.
White MT, Callif-Daley F, Donnelly J (1999) Genetic Testing for Disease Susceptibility: Social, Ethical, and Legal Issues for Family Physicians.  American Family Physician 60(3):748,750,755.
White MT (1999) Guidelines for IRB Review of International Collaborative Medical Research: A Proposal.  Journal of Law, Medicine and Ethics 27(1):87-94.
White MT (1999) Making Responsible Decisions: an Interpretive Ethic for Genetic Decision-Making. The Hastings Center Report 29(1):14-21.
White MT (1998) Decision-Making through Dialogue: Reconfiguring Autonomy in Genetic Counseling. Theoretical Medicine 19:5-19.
White MT (1997) "Respect for Autonomy" in Genetic Counseling: An Analysis and a Proposal. Journal of Genetic Counseling 6(3):297-313.
White MT (1995) Historical Narrative or Life review?: The Role of Interpretation in Wallace Stegner's Angle of Repose. Journal of Aging Studies 9(2):175-186.
Is this you?
Log in
to update your profile.