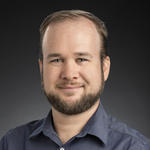 Before returning to Wright State to complete his Master of Music in Instrumental Conducting degree, Matthew Weaver taught band in the Mt. Healthy City Schools district in Cincinnati where he ran the elementary band program and assisted teaching music students at all ages in the district. Matt earned his teaching license through a post-baccalaureate program at the Ohio State University in 2016 and earned his Bachelor of Arts in Music degree from Wright State in 2013. He attended The Conductor's Institute at Bard College in 2014 and, while teaching private trumpet, horn, baritone, trombone, and piano lessons, Matt played trumpet in various community ensembles around Columbus, Ohio. Matt has also worked as a marching band tech and drum major instructor at various schools and for many years, mostly in Tennessee where he grew up.
Matt is the director of the Wright State Raider Pep Band, the university's only athletic band. The Raider Pep Band consists of both music majors and non-music majors and plays an eclectic mix of pop, rock and jazz tunes from a deep setlist. The band provides musical entertainment, as well as its fair share of cheers and good-natured heckling, at all home men's basketball games, as well as a selection of women's basketball games and volleyball games. A common feature at most Spring semester basketball games you will see is the Raider Pep Band being accompanied by student musicians from local high schools such as Adena High School, Southeastern High School, Troy Christian High School, West Carrollton High School, and Stebbins High School. If you believe your high school or middle school band would be interested in playing alongside the Raider Pep Band at a home basketball game, please reach out to Matt!
For the Spring 2023 semester, Matt is also conducting the Symphonic Band, a concert band that, like the Raider Pep Band, consists of both music majors and non-music majors who share a passion for music and ensemble playing. Pieces programmed for this semester run the gamut in terms of genre, from music composed by current and former Wright State students, staple works from the established wind ensemble repertoire, and pieces that require flashlights and screaming.
Matt has been an active trumpet player, conductor, marching band technician, private instructor, and teacher for years. He believes that music making is priceless and should be shared with anyone with a passion for creativity, beauty, nuance, and thoughtfulness.
Matt lives in Cincinnati with his beautiful wife, Erin, and two sons, Milo and Remy. There is a third son, Wicket, but he is a dog.
Is this you?
Log in
to update your profile.