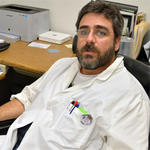 Mauricio Di Fulvio,
Ph.D.
Department:
Pharmacology & Toxicology-SOM
Title:
Associate Professor
Address:
Health Sciences Bldg 216, 3640 Colonel Glenn Hwy., Dayton, OH 45435-0001
Academic Appointments
Research Assistant, Wright State University Department of Physiology and Biophysics
Post-doctoral Fellow, WSU Department of Neuroscience, Cell Biology and Physiology
Research Associate, WSU Department of Pharmacology and Toxicology
Visiting Scientist, Children's Cancer Institute Australia, University of New South Wales, Sydney, Australia
Assistant Professor, Department of Pharmacology & Toxicology, WSU 
 
Research Interests
Type-2 Diabetes
Mechanisms of insulin secretion
Our laboratory is interested in the study of the KATP-independent anionic mechanisms of insulin secretion and how widely used diuretics impact the ability of pancreatic islets to secrete insulin and regulate carbohydrate metabolism.
Our research is primarily focused on the molecular biology, gene expression and the regulation of ion transporters targeted by diuretics and recently developed drugs. We are also interested in the impact of those drugs and their targets on insulin secretion in vitro and in vivo. Basically, our interests are centered at the molecular mechanisms involved in the regulation of transporters' gene expression, the intracellular signaling networks leading to transcriptional or post-transcriptional modulation of their expression and function and how these mechanisms interact to modulate insulin secretion in response to nutrients. We use animal or cellular models, which have been genetically modified to lack or over express genes of interest. We routinely use functional methods to assess glucose homeostasis, tissue function and hormone secretion. Our research hypotheses are routinely tested at several levels using functional, pharmacological, genetic and molecular approaches such as those involving th euse of the polymerase chain reaction (PCR), reverse transcription coupled to conventional or quantitative  PCR, cloning, sub-cloning, site directed mutagenesis, molecular tagging, gene silencing, gene over expression, immunological and imaging techniques.
Recent Publications (selected from https://www.ncbi.nlm.nih.gov/myncbi/browse/collection/41609723/?sort=dat...)
1. The neuronal K+Cl– co-transporter 2 (Slc12a5) regulates insulin secretion. Kursan S, McMillen T, Beesetty P. Dias-Junior E, Almutairi M, Sajib A, Kozak J, Aguilar-Bryan L and Di Fulvio M. (2017) Sci Rep. 17:1732.
2. Survival and growth of C57BL/6J mice lacking the BK channel, Kcnma1: lower adult body weight occurs together with higher body fat. Halm S, Bottomely M, Almutairi M, Di Fulvio M, and Halm D. (2017) Physiol Rep 5:e13137.
3. Plasma membrane targeting of endogenous NKCC2 in COS7 cells bypasses functional Golgi cisternae and complex N-glycosylation. Singh R, Kursan S, Almiahoub MY, Almutairi MM, Garzón-Muvdi T, Alvarez-Leefmans FJ and Di Fulvio M. (2017) Front Cell Dev 4:150.
4. A highly efficient strategy to determine genotypes of genetically engineered mice using genomic DNA purified from hair roots. Otaño-Rivera VE, Boakye A, Grobe N, Almutairi MM, Kursan S, Mattis LK, Castrop H, Gurley SB, Elased KM, Boivin GP and Di Fulvio M. (2017) Lab Anim 51:138-146
5. Increased Slc12a1 expression in β-cells and improved glucose disposal in Slc12a2 heterozygous mice. Alshahrani S, Almutairi MM, Kursan S, Dias-Junior E, Almiahuob MYM, Aguilar-Bryan, L and Di Fulvio, M. (2015) J Endocrinol 227:153-65 
6. Impact of hybrid and complex N-glycans on the cell surface targeting of the endogenous chloride co-transporter Slc12a2. Singh R, Almutairi M, Pacheco-Andrade R, Almiahoub M and Di Fulvio M (2015) Int J Cell Biol 505294:20.
7. Functional and molecular evidence for expression of the renin-angiotensin system (RAS) and a disintegrin and metalloproteinase (ADAM) 17 in COS7 cells. Grobe N, Kashkari N, Chodavarapu H, Somineni HK, Singh R, Di Fulvio M, Elased KM. (2015) Am J Physiol 308:C767-77.
8. A molecular analysis of the Na+-dependent cation-chloride cotransporters. Gagnon KB and Di Fulvio M (2013) Cell Physiol Biochem 32(7):14-31
9. Enhanced insulin secretion and improved glucose tolerance in mice with homozygous inactivation of the Na+K+2Cl– co-transporter-1. Alshahrani S and Di Fulvio M (2012). J Endocrinol 215:59-70
10. Expression of the Slc12a1 gene in pancreatic β-cells: Molecular characterization and in silico analysis. Alshahrani S, Alvarez-Leefmans F and Di Fulvio M (2012) Cell Physiol Biochem 30:95-112.
 
Book Chapters
1. Chloride Channels and Transporters in β-cell Physiology. Di Fulvio M, Peter Brown and Lydia Aguilar-Bryan (2014) In: The Islets of Langerhans, Chapter 14 p. 401-451. Ed. Md. Shahidul Islam M.D., Ph.D. Springer Netherlands.
2. The NKCC and NCC genes, an in silico analysis. Di Fulvio M and Alvarez-Leefmans FJ (2009) In: Physiology and Pathology of Chloride Transporters and Channels in the Nervous System. From molecules to diseases. p. 169-208. Eds. Javier Alvarez-Leefmans & Eric Delpire. Elsevier. Academic Press, San Diego, CA.
 
Education History:
Clinical Biochemistry, National University of Córdoba, Argentina
Ph.D. Biochemistry, National University of Córdoba, Argentina. Molecular Endocrinology
Is this you?
Log in
to update your profile.