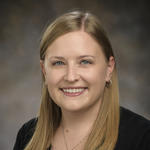 Melissa Kay Doran,
Ph.D.
Department:
Sch of Social Sci's & Int'l Studies
Title:
Associate Professor, Spanish
Address:
Allyn Hall 330, 3640 Colonel Glenn Hwy, Dayton, OH 45435-0001
Melissa Doran is an Assistant Professor of Spanish in the Department of Modern Languages.   She received her Ph.D. and M.A. from The Ohio State University and her B.A. from Wright State University. Melissa previously taught for four years at Wright State as an Instructor of Spanish and is delighted to be teaching Spanish Conversation I, Writing in Spanish, and Spanish Culture this semester. Her research interests center around the intersection of history, politics, and literature, with a particular focus on representations of gender and terrorism in Spain and throughout the Hispanic world. Melissa's favorite teaching experience so far was a collaboration with the Department of Theatre, Dance, & Motion Pictures on their production of Blood Wedding during which she and her Modern Languages students worked as dramaturges for the play. 
Is this you?
Log in
to update your profile.