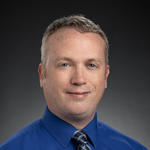 Michael P Matott,
PhD
Department:
NeuroSci Cell Bio Physiology-SOM
Title:
Assistant Professor, Neuroscience, Cell Biology & Physiology
Address:
White Hall 105, 3640 Colonel Glenn Hwy, Dayton, OH 45435-0001
Education History
Ph.D in Biomedical Sciences from the University of South Florida, Morsani School of Medicine. Tampa, Florida 2012
MS in Biology from the University of South Florida, College of Arts and Sciences. Tampa, Florida 2003
BS in Biology from Allegheny College. Meadville, PA. 1998 
Teaching
I teach primarily within the Boonshoft School of Medicine, facilitating systems-based physiology instruction for multiple modules in the foundational first two years of the Wright Curriculum. I am module director for the foundational Origins course and the cardiovascular/pulmonary/renal module Staying Alive. I co-direct and teach the summer graduate level Human Physiology course for the Department of Neuroscience, Cell Biology, and Physiology.
Service
I serve on the content review committees for WrightQ, Peer Instruction, and Team Based Learning. I also serve on the steering committees for multiple modules of the BSOM Wright Curriculum. I am the BSOM representative for the Graduate Faculty Membership Committee and for Faculty Senate.
Publications
Martinez, D., Lima-Silveira, L., Matott, MP., Hasser, EM, Kline, DD. 2022. Gamma-Aminobutyric Acid Transporters in the Nucleus Tractus Solitarii Regulate Inhibitory and Excitatory Synaptic Currents That Influence Cardiorespiratory Function. Frontiers in Physiology, 12. doi.org/10.3389/fphys.2021.821110
Parmelee D, Trout M, Overman I, Matott M, 2020, '12 TIPS for Implementing Peer Instruction in Medical Education', MedEdPublish, 9, [1], 237, doi.org/10.15694/mep.2020.000237.1
Matott MP, Hasser EM, and Kline DD. 2020 Sustained Hypoxia Alters nTS Glutamatergic Signaling and Expression and Function of Excitatory Amino Acid Transporters. Neuroscience 430: 131-140. doi.org/10.1016/j.neuroscience.2020.01.034
Dantzler, HA, Matott MP, Martinez D, and Kline DD 2019 Hydrogen peroxide inhibits neurons in the paraventricular nucleus of the hypothalamus via potassium channel activation. Am J Physiol Regul Integr Comp Physio. 317 (1): R121-133. doi: 10.1152/ajpregu.00054.2019
Matott MP, Kline DD, and Hasser EM. 2017 Glial EAAT 2 regulation of extracellular nTS glutamate critically controls neuronal activity and cardiorespiratory reflexes. J. Physiol 595 (17):6045-6063. doi: 10.1113/JP274620
Matott MP, and Kline, DD. 2016 Activation of 5-hyrdoxytryptamine 7 receptors within the rat nucleus tractus solitarii modulates synaptic properties. Brain Research 1635:12-26. doi:10.1016/j.brainres.2016.01.017
Matott MP, Ruyle BC, Hasser EM, and Kline DD. 2016 Excitatory amino acid transporters tonically restrain nTS synaptic and neuronal activity to modulate cardiorespiratory function. J. Neurophysiol 115(3):1691-1702. doi: 10.1152/jn.01054.2015
Matott MP, Ciarlone GE, Putnam RW, and Dean, JB. 2014 Normobaric hyperoxia (95% O2) stimulates CO2-sensitive and CO2-insensitive neurons in the caudal solitary complex of rat medullary tissue slices maintained in 40% O2.  Neuroscience 270:98-122. doi: 10.1016/j.neuroscience.2014.03.017
Professional Affiliations/Memberships
American Physiological Society
Innternational Association of Medical Science Educators
Is this you?
Log in
to update your profile.