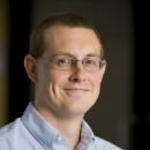 Mike Vanhorn,
B.S., M.B.A.
Department:
College of Eng & Computer Sci Admin
Title:
Senior Computer Systems Administrator
Address:
Russ Engineering Center 265, 3640 Colonel Glenn Hwy., Dayton, OH 45435-0001
Education History
I have a B.S. in Computer Science (cum laude, 1996) and an MBA (2006).
Responsibilites
I handle computing resources for the College of Engineering and Computer Science. This is basically Russ, Joshi, and the CECS' parts of the NEC. I most likely canNOT help you with your email, getting your campus password changed, anything to do with Pilot, or (usually) anything associated with AD. I probably can help you with computing issues in Russ and Joshi, unless it's resouces maintained by the CSE department (they have their own admin person). If you're in the CECS and need to run Ansys, Abaqus, anything from Cadence or Synopsys, MATLAB, SolidWorks, or other Engineering-related software, or need help using your CECS Linux account, then I'm probably a good contact. 
Service
I served as the Assistant Director for Rules of the annual Trebuchet Competition for several years, and received the Most Valuable Volunteer award in 2005.
I've been a member of Staff Senate since 2022, serving on the Building and Grounds Committee and the Provost's Mental Health Task Force.
Professional Affiliations/Memberships
I have a Technician class Amateur Radio License (KB8WDK).
Awards/Recognition
I received the CECS Outstanding Staff Award for Service in 2016-2017.
Publications
VanHorn, Michael. "Lovers." Ed. Jeffrey Franz. Great Poems of Our Time. Owings Mills, MD: National Library of Poetry, 1993. 171. Print.
Is this you?
Log in
to update your profile.