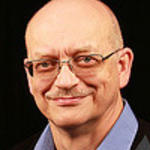 Michal J Kraszpulski,
Ph.D.
Title:
Lecturer, NCBP/Psychology
Address:
Fawcett Hall 319G, 3640 Colonel Glenn Hwy, Dayton, OH 45435-0001
Publications
G.W. Konat, A. Krasowska-Zoladek, M. Kraszpulski: Statins enhance toll-like receptor 4-mediated cytokine gene expression in astrocytes: Implication of Rho proteins in negative feedback regulation. J. Neurosci. Res. 86, 603-609, 2008.
W.W. Boling, M. Parsons, M. Kraszpulski, C. Cantrell, A. Puce: Whole-hand sensorimotor area: cortical stimulation localization and correlation with functional magnetic resonance imaging. J. Neurosurg. 108, 491-500, 2008.
G.W. Konat, M. Kraszpulski, I. James, H.T. Zhang, J. Abraham: Cognitive dysfunction induced by chronic administration of common cancer chemotherapeutics in rats. Metab. Brain Dis. 23, 325-333, 2008.
M.W. Parsons, W. Boling, M. Lancaster, M. Kraszpulski: Correlating FMRI and neuronavigation: demonstration of a "Whole Hand" area in central cortex. J. International Neuropsychological Society 14, S1, 86-87, 2008.
W.W. Boling, M. Lancaster, M. Kraszpulski, A. Palade, G. Marano, A. Puce: Fluorodeoxyglucose-positron emission tomographic imaging for the diagnosis of mesial temporal lobe epilepsy. Neurosurgery 63, 1130-1138, 2008.
I.R. Younis, M. Elliott, C.J. Peer, A.J.L. Cooper, J.T. Pinto, G.W. Konat, M. Kraszpulski, W.P. Petros, P.S. Callery: Dehydroalanine analog of glutathione: An electrophilic busulfan metabolite that binds to human glutathione S-transferase A1-1. JPET 327, 770-776, 2008.
M. Parsons, M. Kraszpulski, C. Cantrell, A. Puce: Surgery for tumor in the primary sensorimotor cortex: elucidation of the whole hand sensory and motor areas. J. Neuro.-Oncol. 87, 207, 2008.
M. Parsons, W. Boling W, M. Moran, M. Kraszpulski, K. Shaikh, A. Puce, S. Lemieux, C. Rosen, J. Collins, J. Bailes: Advances in Neurosurgical Applications of Functional Magnetic Resonance Imaging. In: Advances in Medicine and Biology. Volume 4. L.V. Berhardt (ed.), Nova Science Publishers, Hauppauge, NY (2010).
F.J. Alvarez, H.E. Titus-Mitchell, K.L. Bullinger, M. Kraszpulski, P. Nardelli, T.C. Cope: Permanent central synaptic disconnection of proprioceptors after nerve injury and regeneration. I. Loss of VGLUT1/IA synapses on motoneurons. J. Neurophysiol. 106, 2450-2470, 2011.
D. Ivkovich Claflin, K.D. Schmidt, Z.D. Vallandingham, M. Kraszpulski, M.B. Hennessey: Influence of postnatal glucocorticoids on hippocampal-dependent learning varies with elevation patterns and administration methods. Neurobiol. Learn. Mem. In press, 2017
Is this you?
Log in
to update your profile.