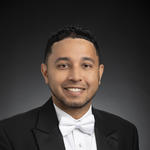 Nathan Nagir,
D.M.A.
Department:
School of Fine and Performing Arts
Title:
Director of Choral Studies
Address:
Creative Arts Center 085C, 3640 Colonel Glenn Hwy, Dayton, OH 45435-0001
Dr. Nathan Nagir comes from the twin isles Republic of Trinidad and Tobago in the Caribbean. There, he is in demand as a conductor, accompanist, vocalist and educator. Having worked with several children's, youth and adult ensembles, he has led many of them to success in competitions throughout the nation. He has worked with many primary and secondary schools, accompanied and directed the St. Augustine Girls' High School choir and formed the student-staff/faculty choir at Hillview College. He served as the National Music Director and Conductor in 2012 for the National Convention of the Presbyterian Church of Trinidad and Tobago. As a solo artist, Nathan has won several prizes and competitions for best vocal and choral performance. His personal choir—Harmonies Aloud—was selected to perform for various state functions and several times at the Diplomatic Centre and Office of the Prime Minister.
In the of Spring '22 Nagir graduated from the Butler School of Music at The University of Texas at Austin where he earned the Doctor of Musical Arts degree in Choral Conducting under the instruction of Drs. James Morrow and Suzanne Pence.
While at the Butler School of Music, he served as:
Conductor to University Chorus & Tenor-Bass Chorus
Associate Conductor to Chamber Singers & Concert Chorale
Music Director to The Bach Cantata Project & Longhorn Singers (Premiere Show Choir at UT)
His Master of Music in Choral Conducting is from Texas State University where he studied with Drs. Jonathan Babcock, Joey M. Martin and Craig Hella Johnson. Dr. Nagir also holds a Certificate of Music in Steelpan and a Bachelor of Arts in Musical Arts from the University of the West Indies.
Is this you?
Log in
to update your profile.