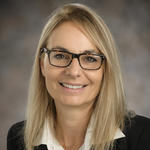 Pascale Agnes Abadie,
Ph.D.
Department:
Sch of Social Sci's & Int'l Studies
Title:
Associate Professor, French
Address:
Allyn Hall 319, 3640 Colonel Glenn Hwy, Dayton, OH 45435-0001
Pascale Abadie was born in Paris, France.  She moved to Dayton 22 years ago and received her associate's degree in Business from Sinclair Community College.  At Wright State she earned her bachelor's degree in French and Business and her master's degree in Education.  She recently earned her Ph.D in French and Francophone Studies with a concentration in African Women Literature at the University of Cincinnati.
Pascale and her husband have two children, a daughter who is also a WSU alumna, and a son who is serving the country as a Marine.  Along with teaching she enjoys horseback riding and reading. 
During fall semester Pascale taught French Conversation and a Comic Books class, and in the spring she is teaching a French Graphic Novel and Comic Book class.  Pascale says she has loved Wright State ever since she studied here because the students are all hard-working and many are first generation college students.  She loves the Department of Modern Languages because her colleagues are always open to new ideas and ways to interest students.
Is this you?
Log in
to update your profile.