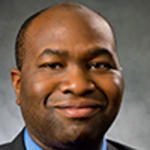 A. Peter Ekeh,
MBBS
Title:
Professor, Surgery Director of Trauma Services, MVH
Address:
Miami Valley Hospital, 128 E Apple St Wche 7, Dayton, OH 45409-2902
Certification
Surgery
Surgical Critical Care
Clinical Expertise
General Surgery
Trauma Surgery
Surgical Critical Care
Professional Affiliations
American Medical Association
American College of Surgeons
Eastern Association for the Surgery of Trauma
Gem City Medical and Dental Association
Dayton Surgical Society
Society of Critical Care Medicine
Hospital Privileges
Miami Valley Hospital (a)
Kettering Medical Center (c)
Good Samaritan Hospital and Health Center (c)
Key: (a) denotes active status; (c) denotes courtesy status
Education History
M.D.: University of Ibadan College of Medicine, Nigeria (1991)
MPH: University of Miami (epidemiology)(2001)
Internship: University College Hospital, Nigeria (1992)
Residency: Brooklyn Hospital Center, New York (general surgery)(1998)
Fellowship: University of Miami (surgical critical care)(1999)
Fellowship: Univeristy of Miami (trauma)(2000)
Is this you?
Log in
to update your profile.