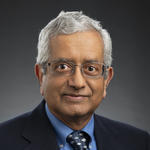 Raghu Srinivasan,
Ph.D.
Department:
Mechanical & Materials Engineering
Title:
Professor and Chair
Address:
Russ Engineering Center 209, 3640 Colonel Glenn Hwy, Dayton, OH 45435-0001
Curriculum Vitae

RS_cv-2022-5.pdf
291.27 KB
Research Statement
Research Interests: Mechanical behavior and testing of materials, phase transformations, microstructure and texture evolution during thermomechanical processing in the domains of materials for aerospace and commerical applications, multi-principal element alloys (MPEA), thermoelectric materials, and additive manufacturing.
Students Advised
Graduate Students Supervised
Is this you?
Log in
to update your profile.