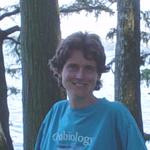 Rebecca Elizabeth Teed,
PHD
Department:
Earth and Environmental Sciences
Title:
Associate Professor
Address:
Brehm Laboratory 269, 3640 Colonel Glenn Hwy., Dayton, OH 45435-0001
I'm an associate professor at Wright State University, mostly teaching geology to education majors.  My current research areas include paleoecology and geoscience education.  Fossil diatoms, pollen, and charcoal are buried and preserved in lake sediment every year, and this has been going on for since the latest ice age in many lakes.  These fossils provide continuous records of lake conditions, regional vegetation, and local climate thousands of years long.  In my classes, I'm trying to measure the effectiveness of different teaching techniques.  The greatest learning gains I am seeing are with cooperative problem-based learning and the most transitory are with lecture. 
I have a Ph.D. in Ecology, Evolution, and Behavior from the University of Minnesota, and worked as a graduate student and post-doc with the Limnological Research Center there. From 2000-2001, I was a lecturer with the University of Maryland - European Division, teaching general biology, math, and computer science to U.S. military personnel in Turkey, Bosnia, and Bahrain.  As a research associate at Carleton College, I studied pollen records from southeastern Minnesota and western Manitoba, and worked on modules for Starting Point, a website to help people teaching introductory Earth science.  I started teaching at Wright State in 2004.
Curriculum Vitae:

teedCV20.pdf
45.37 KB
Education History:
Ph.D. - University of Minnesota - Ecology, Evolution, and Behavior: 1999
M. Phil. - University of Cambridge - Quaternary Studies: 1993
B.A. - Williams College – Biology: 1990
Academics
Teaching:
Current Courses
EES 3460 Concepts in Earth Science II for Middle Childhood Education
EES 3450 Concepts in Earth Science I for Early and Middle Childhood Education
EES 3250/6250 Climate Change
Research statement:
Geoscience Education
I'm currently studying the effectiveness of different kinds of learning activities, such as listening to lecture, doing hands-on science, and cooperative learning.
Quaternary Paleoecology:
I also analyze past vegetation changes using fossil pollen and charcoal from lake sediments.  I am interested in the response of vegetation at the prairie-forest border to climate and to fire frequency.  Diatom (algae) remains are often preserved in the same sediment, and these provide an excellent record of changes in lake chemistry.
Service:
Current Committees
American Association of University Professors - WSU Chapter Dept. Liaison
EES Master of Science Teaching Committee (member: 2004 – present)
College of Science and Math Curriculum Committee (member: 2017 - present)
Wright State University Center for Teaching and Learning Workshops
Workshop Leader – How to Make a Graphic Syllabus, November 6, 2019
Workshop Leader – Game-based Learning, September 17, 2014
Workshop Leader - Assessment Workshop, April 20, 2012
Workshop Leader - Cooperative Learning, October 20, 2011
Web Modules at Starting Point
Students Advised:
Jackie Manker, B.S. Honors (2019)
Kristin Kopera, M.S. (2019)
Matthew Schmus, M.S.T. (2016)
Adam Wilson, B.S. Honors (2016)
Robin Coy-Richardson, B.S. (2013)
Elizabeth Freeman, B.S. (2015)
Professional
Publications:
McGowin, A.E., and Teed, R.  (2019).  Increasing Expression of Civic-Engagement Values by Students in a Service-Learning Chemistry Course.  Journal of Chemical Education 96: 2158-2166.  DOI: 10.1021/acs.jchemed.9b00221
Warren, E.L., Teed, R., Sanders, S., Foskuhl, B.J., and McGowin, A.E.  (2019). Heavy metals, iron, and arsenic in water and sediment from a cold spring in southwest Ohio.  Environmental Engineering Science 36(10): 1296-1306. DOI: 10.1089/ees.2019.0177
Teed, R. and Franco, S.  2014. Increasing teachers' confidence and pedagogical content knowledge through a workshop and follow-up program on climate change. Journal of Geoscience Education 62(5): 587-597.
Grimley, D., Teed, R., and Phillips, A. 2011. Stop 8: Central Illinois Materials sand pit/Catfish Pond paleoecology. In D.A. Grimley and A.C. Phillips (Eds.), Ridges, mounds, and valleys: Glacial-interglacial history of the Kaskaskia Basin, southwestern Illinois (pp. 107-109). Champaign IL: Illinois State Geological Survey Prairie Research Institute. Open File Series 2011-1.
Basista, B., Harris, C., Tomlin, J., Mathews, S., and Teed, R. 2011. Dual appointments in science and mathematics education: Supporting collaboration for education in a democracy. Education in a Democracy: A Journal of the NNER (National Network for Educational Renewal) 3: 47-74.
Teed, R., and Slattery, W.  2011. Changes in geologic time understanding in a class for pre-service teachers. Journal of Geoscience Education 59: 151-162.
Teed, R., Umbanhowar, C.E., Jr., and Camill, P.  2009. Multi-proxy lake sediment records at the northern and southern boundaries of the aspen parkland region of Manitoba, Canada. The Holocene 19 (6): 937-948.
Slattery, W., Teed, R., Cole, T., and Davis, C.  2007.  A multi-disciplinary Earth systems course designed for pre-service middle school teachers.  Journal of Geoscience Education 55 (3): 218-221.
Umbanhowar, C.E.. Jr., Camill, P., Geiss, C., and Teed, R.  2006.  Asymmetric vegetation responses to mid-Holocene aridity at the prairie–forest ecotone in south-central Minnesota.  Quaternary Research 66 (1): 53-66.
Teed, R.  2005.  A student-centered project for Earth system history.  Journal of Geoscience Education 53: 96-100.
Camill, P., Umbanhowar, C.E., Teed, R., Geiss, C.E., Dvorak, L., Kenning, J., Limmer, J., Walkup, K., Aldinger, J.  2003.  Late-glacial and Holocene climatic effects on fire and vegetation dynamics at the prairie-forest ecotone in south-central Minnesota.  Journal of Ecology 91: 822-836.
Allison, T.D., Art, H.W., Cunningham, F.E., and Teed, R.  2003.  Forty-two years of succession following clear-cutting in a northern hardwoods forest in northwestern Massachusetts.  Forest Ecology and Management 182: 285-301.
Teed, R.  2000.  A >130,000-year-long pollen record from Pittsburg Basin, Illinois.  Quaternary Research 54: 264-274.
Is this you?
Log in
to update your profile.