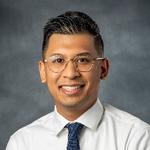 Josef Kyle Rivera
Student college:
School of Medicine
RESEARCH STATEMENT
My research interests center around on evaluating broad public health issues (i.e., substance use/abuse) and their effects on the individual level through qualitative methods. Currently, I am a medical student at Wright State Boonshoft School of Medicine.
PUBLICATIONS
Berg EL, Ching TM, Bruun DA, Rivera JK, Careaga M, Ellegood J, Lerch JP, Wӧhr M, Lein PJ, and Silverman JL. Translational outcomes relevant to neurodevelopmental disorders following early life exposure of rats to chlorpyrifos. Journal of Neurodevelopmental Disorders 2020.
Berg EL, Copping NA, Rivera JK, Pride MC, Careaga M, Bauman MD, Berman MF, Lein PJ, Harony-Nicolas H, Buxbaum JD, Ellegood J, Lerch JP, Wӧhr M, and Silverman JL. Developmental and social communications deficits in the Shank3 Mutant Rat Model of Phelan-McDermid Syndrome and Autism Spectrum Disorder. Autism Research 2018.
EDUCATION
MPH, Boston University, 2020
MS, Boston University, 2019
BS, University of California, Davis, 2014
Is this you?
Log in
to update your profile.