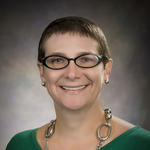 Sarah E. Twill,
Ph.D, M.S.W.
Address:
Millett Hall 385, 3640 Colonel Glenn Hwy, Dayton, OH 45435-0001
Sarah Twill completed her undergraduate work at California State University, Fullerton, and her MSW and PhD at The University of Georgia.  Prior to becoming a faculty member, Sarah was a mental health therapist, a juvenile probation officer, and assistant director of a poverty outreach center.  Her research interests include juvenile justice sentencing and treatment, and student success. Typically, Sarah teaches in the social work practice sequence, as well as electives for the University Honors Program, and an interdisciplinary course on Mental Health and Contemporary Fiction.  
Is this you?
Log in
to update your profile.