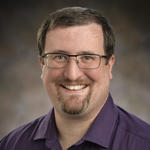 Shaun Spielman,
M.D.
Department:
Family Medicine
Title:
Assistant Professor, Family Medicine
Address:
Five Rivers Family Health Center, 2261 Philadelphia Dr., Dayton, OH 45406
Dr. Shaun Spielman grew up in Berkeley Springs, a small rural town in eastern West Virginia. He became an Eagle Scout at age 16 and a high school state cross country champion during his senior year of high school. After graduating as covaledictorian of his high school class, he attended Dickinson College in Carlisle, PA, where he graduated Magna Cum Laude with honors in Biology.
He next attended West Virginia University School of Medicine, graduating in 2009. He stayed at WVU for his residency and sports medicine fellowships, finishing in 2013. During this period he met and married his wife Dr. Claire Beimesch, a native of Covington, KY. Afterward he and his wife moved to Saint Paul, MN for 1 year for his wife's pediatric orthopedic fellowship; during this time he worked for Allina Health as an urgent care physician.
For the last 3.5 years he has been an Assistant Professor of Clinical Family Medicine at LSU-Shreveport School of Medicine. In his time there he served on several medical school and hospital committees include the CME committee and the antibiotic review committee, and was an elected member of the Faculty Senate. He served as a team physician at CE Byrd High School and Centenary College. He was the faculty advisor to the sports medicine interest group, and in that capacity helped creating a splinting/casting workshop for members as well as taking medical students with him to various sporting events that he covered. He was an invited lecturer for orthopedics, emergency medicine, and pediatrics on several occasions. Within the family medicine department, he was involved in several departmental committees including the student education and residency milestones committees. On the residency side, he was named a core faculty member after his first year, and twice was named Faculty of the Year by the residents. In addition to giving monthly didactic lectures to the residents, he developed and led yearly educational workshops within the department including a splinting/casting workshop for incoming interns as well as a cadaver workshop for upper level residents where musculoskeletal injections were taught. For the past three years he and his wife have hosted an annual MSK-focused board review for graduating residents at their home.
He holds board certification in Family Medicine and a CAQ in Primary Care Sports Medicine. He is a member of the American Academy of Family Physicians and the American Medical Society for Sports Medicine. He is very much looking forward to joining the Family Medicine department at Wright State University and looks to continue his role as an educator for both medical students, residents, and (hopefully) sports medicine fellows.
Is this you?
Log in
to update your profile.