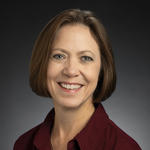 Shelley M. Jagow,
Ph.D.
Department:
School of Fine and Performing Arts
Address:
Creative Arts Center 085B, 3640 Colonel Glenn Hwy., Dayton, OH 45435-0001
Shelley Jagow, Ph.D.
Professor of Music
Director of Bands
M083B Creative Arts Center
(937)775-2178
Contact information: Email: shelley.jagow@wright.edu  Website: https://www.shelleyjagow.com
Dr. Shelley Jagow is Professor of Music at Wright State University School of Music (Dayton, OH) where she serves as Director of Bands conducting both the Symphonic Band and Wind Symphony, and teaches conducting at the undergraduate and graduate level.  She earned top honors in Music Education degrees from the University of Saskatchewan (Canada) and the University of Missouri (Columbia) where respective mentors include Marvin Eckroth, Dale Lonis, Martin Bergee and Wendy Sims. She earned her Ph. D. in Music Education at the Union Institute & University (Cincinnati) where Colonel Timothy Foley, Frank Battisti, and Edward Wingard served as her mentors. In addition to studies in education, saxophone and conducting, Shelley earned the Certificate in Piano Performance IX from the Royal Conservatory of Music, and was previously nominated for both the "Robert J. Kegerreis Distinguished Professor of Teaching" Award and the "Brage Golding Distinguished Professor of Research" Award.
 
As an artist clinician with Conn-Selmer, Vandoren, Meredith Music, and GIA Music, "Dr. J" enjoys working with school bands and presents clinics, performances, adjudications, and serves as honor band conductor at various state, national and international conferences and events. Venues include locations in various states/provinces/countries: Alberta, British Columbia, California, Connecticut, Florida, Kansas, Illinois, Indiana, Iowa, Italy, Manitoba, Massachusetts, Nebraska, New Hampshire, Ohio, Ontario, Oregon, Pennsylvania, Quebec, Rhode Island, Saskatchewan, Scotland, South Carolina, Texas, Utah, Virginia and Washington D.C.; including conferences such as State Music Educators Conferences, the Midwest International Band and Orchestra Clinic, the North American Saxophone Alliance (NASA), the International Society for Music Education (ISME), the College Music Symposium (CMS), the World Saxophone Congress, and the United States Navy Band International Saxophone Symposium. 
 
Shelley previously served as coach for the WSU student Avion Saxophone Quartet, which can be heard on Apple Music/iTunes. All members of the quartet are chosen annually on a highly selective audition process, and include music education and/or performance majors at Wright State University. The Avion Saxophone Quartet is a recipient of the Edgar Hardy Scholarship, the Dayton Chamber Music Society Scholarship, the Chamber Music Institute Fellowship, and the Wright State University Presidential Commendation for Excellence. The quartet has commissioned and premiered works from national composers all across the world. The group performs a diverse musical repertory and is often invited to perform at school, community, and professional events including the Ohio Music Educators Association (OMEA) State Conference, the Music Educators National Conference (MENC), the North American Saxophone Alliance (NASA) conferences, the International Society for Music Education (ISME), the United States Navy Band International Saxophone Symposium, and the World Saxophone Congress in St. Andrews, Scotland. The Quartet has performed throughout the United States in Connecticut, Indiana, Nebraska, Ohio, Rhode Island, South Carolina, Utah, Virginia, and Washington D.C. International performance tours include Japan, Italy and Scotland. Shelley herself can be heard performing on the Emeritus Recording label, on National Public Radio Performance Today, and America's Millennium Tribute to ADOLPHE SAX, Volume XI by Arizona University Recordings.
 
Shelley is a regular contributing author to both The Music Director's Cookbook (Meredith Music), and the Teaching Music Through Performance in Band series (GIA Music). She is also the author of the book and DVD Teaching Instrumental Music: Developing the Complete Band Program  (2nd edition)(Meredith Music)—a resource rapidly becoming the adopted textbook for music education degree study across the United States and Canada. Her most recent publications include Tuning for Wind Instruments: A Roadmap to Successful Intonation (Meredith Music), Intermediate Studies for Developing Artists on the Flute, Oboe, Clarinet, Saxophone and Bassoon (Meredith Music), and The Londeix Lectures a 13+ hours DVD set archiving the historical music lectures of Professor Jean-Marie Londeix (and translated by William Street, University of Alberta). Growing up riding horses and helping on the farm in her native Saskatchewan (Canada), Shelley continues to enjoy the outdoors, gardening, exploring independent craft breweries, and sharing a love for all animals.  Website: www.shelleyjagow.com
Is this you?
Log in
to update your profile.