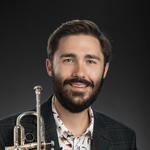 Stephen M Wadsack,
M.M.
Department:
School of Fine and Performing Arts
Title:
Instructor of Trumpet Director, Jazz Ensembles
Address:
Creative Arts Center 93D, 3640 Colonel Glenn Hwy, Dayton, OH 45435-0001
Stephen M. Wadsack, M.M.
Instructor of Music, Trumpet
Director, Wright State University Jazz Ensemble
Director, University Trumpet Ensemble
Stephen M. Wadsack serves as the Instructor of Trumpet and directs the Wright State University Jazz Ensemble. In addition to his responsibilities with the trumpet studio and jazz studies, Stephen teaches courses in music history, coaches chamber music ensembles, and performs in the Faculty Brass Quintet. Prior to his appointment at WSU in the Fall of 2022, Wadsack previously served on the faculties of Wilmington College (OH), Thomas More University (KY), and the University of Cincinnati's College-Conservatory of Music (CCM). He is also a certified K-12 music educator with endorsements in teaching instrumental, choral, and general music.
As a performer, Stephen regularly appears with a wide variety of ensembles throughout the tri-state area, ranging from major symphony orchestras to chamber music groups, jazz ensembles, and Baroque period performance groups. Recent credits include ensembles such as the Cincinnati May Festival, Dayton Philharmonic Orchestra, Lexington Philharmonic Orchestra (KY), Richmond Symphony Orchestra (IN), and Springfield Symphony Orchestra (OH). Wadsack is also in demand as a commercial/jazz trumpeter and recording artist; he can regularly be seen and heard performing in the live band at Kings Island amusement park, which entertains over 3.5 million guests over an 8-month season. Stephen has also recently performed as a featured guest soloist with the Round Lake High School Jazz Ensembles (IL), Wilmington High School's Symphonic Band (OH), University of Wyoming Symphony Orchestra (WY), and the Butler Philharmonic (OH). 
Stephen is passionate and active as a champion of new music. He has commissioned multiple pieces for solo trumpet and trumpet ensemble arrangements by the award-winning composer Martin Hebel; many of these pieces have received premieres at events such as the National Trumpet Competition (2017, 2018) and the International Trumpet Guild Conference (2017, 2018, 2019, 2022). As an academic researcher, Wadsack has been published by Wyoming Windsong, the Wyoming Music Educators' Journal. Stephen was also recently invited to present at both the North American Baroque Trumpet Conference and the ITG Conference to present research; recent appearances at conferences include a research paper presentation on the trumpet nomenclature of J.S. Bach, as well as a presentation on the college audition process for prospective high school and graduate students pursuing a program in applied music. 
In addition to his appointment at Wright State, Wadsack maintains an active schedule as a guest artist/clinician for various high school, collegiate, and professional programs around the United States. To date, Stephen has engaged in residencies, masterclasses, and recitals at over 60 middle school, high school, and university music programs; he was also a featured performing artist at both the North American Baroque Trumpet Conference, and the International Trumpet Guild Conference (2022). In the summers, Stephen teaches applied trumpet, directs the jazz lab band, coaches chamber ensembles, teaches electives in jazz theory/improvisation, and performs as principal trumpet in the faculty orchestra at Encore/Coda - an artistic retreat and musical arts education camp with programs in classical music, jazz, rock, pop, and musical theater.
Outside of musical pursuits, Stephen enjoys connecting with friends, family, and current/former students. He is very passionate about the outdoors, hiking, fly fishing, and traveling to new places (especially National and State Parks). At home, Stephen regularly enjoys hosting board game nights, reading up on theology, all things coffee, and even brewing his own beer. He is also particularly proud of his Wyoming heritage (Go Pokes!). Stephen is happily married to his wife and "adventure partner", Casey. Together, they have worked extensively with Linton Chamber Music's "Peanut Butter & Jam Sessions" - an affiliate organization of the Cincinnati Symphony Orchestra that presents free interactive and educational concerts for children ages 2-6, across various neighborhoods throughout Greater Cincinnati.
Education:
University of Cincinnati College-Conservatory of Music (CCM), Master of Music in Trumpet Performance
University of Wyoming, Bachelor of Music Education (K-12 Certified Educator)
Professional Affiliations/Memberships:
American Federation of Musicians, Local 1 - Cincinnati
College Music Society
International Trumpet Guild (ITG)
International Womens Brass Conference (IWBC)
Jazz Education Network (JEN)
Kappa Kappa Psi, National Honorary Band Fraternity
National Association for Music Education (NAfME)
Ohio Music Education Association (OMEA)
Ohio Trumpet Guild - ITG Affiliate Chapter
Pi Kappa Lambda, National Music Honor Society
Recording Credits:
Wilmington College Bands, "Sounds of the Season" - Director, Producer, Arranger; 2022
University Christian Church, "Hymns" - Producer, Arranger, Piano, Trumpet; 2021
National Intercollegiate Band, "Of Blood and Stone: the Pyramids of Giza", Mark Records; 2015
Is this you?
Log in
to update your profile.