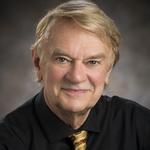 W. Stuart McDowell, Professor Emeritus, is an award winning playwright, director and scholar.   He served as Chair of the Department of Theatre, Dance and Motion Pictures at Wright State University from 1994-2016, after working in professional theatre in New York and California for two decades, as actor, composer, director, translator, and artistic director.  McDowell was the Frederick A. White Distinguished Professor of Professional Service at Wright State University for 2018 - 2021.
McDowell won awards from the Kennedy Center American College Theatre Festival for directing and writing of 1913: The Great Dayton Flood (co-written with honors-student Timothy Nevits based on the Pulitzer Prize nominated book, A Time of Terror: The Great Dayton Flood, by Allan W. Eckert), which played to over 10,000 in Washington D. C. and Dayton in 1997-8, featuring recorded narration by Martin Sheen, the late Ruby Dee and Ossie Davis. His original drama, The Brothers BOOTH! was developed at the Guthrie Theatre Lab, the New Harmony Project, and New York's Second Stage, with such actors as David Strathairn, David Dukes, Maryann Plunket, and Stephen Lang, and subsequently produced professionally.  He has composed several hundred songs and incidental music for the theatre, including the score and libretto for 1903: The Wings of Dreams, about the lives of Wilbur and Orville Wright and Paul Laurence Dunbar, which was filmed and broadcast annually on PBS/ThinkTV throughout southwest Ohio.
McDowell was granted an M.A. and Ph.D. from the University of California at Berkeley, and a B.A. from Macalester College, where he was honored with the Distinguished Citizen Award in the spring of 2019.
McDowell was a two-year Fulbright Scholar, as well as a DeWitt Wallace Fellow, for residencies in Berlin at the acclaimed Berliner Ensemble and the Munich Kammerspiele.  He interviewed over fifty actors and directors who worked with Brecht and other leaders in German theatre and cabaret, beginning in the Weimar years.  He has lectured at the NYU School of the Arts, Columbia University, the Academy of Performing Arts in Sarajevo, Bosnia-Herzegovina, and Oxford, England. McDowell's published scholarship on the early filmwork of Bertolt Brecht has been widely quoted, and his article about the misconceptions surrounding Brecht's theories of acting won the distinguished national award in the Amy and Eric Burger Theatre Essay Competition.
McDowell translated and directed numerous dramas from German, from Goethe's Faust: Part One and Frank Wedekind's Der Kammersaenger to the cabaret sketches of Weimar-era Munich clown Karl Valentin, as well as over a dozen plays by Bertolt Brecht.  These include several major premieres, including the New York premiere of The Life of Edward II, produced by Joseph Papp and the New York Shakespeare Festival, and the American premiere Off Broadway, of The Downfall of the Egotist Johann Fatzer, featuring noted Irish cabaret singer Agnes Bernelle. 
McDowell was the founding Artistic Director of the Riverside Shakespeare Company of New York City, which he co-founded with his wife, Gloria Skurski, and helmed for a decade, producing numerous dramas and Commedia dell'arte works by Machiavelli, Shakespeare, and Brecht.  At Riverside, McDowell mounted dramas and benefits with Jeremy Irons, Roger Rees, Mary Elizabeth Mastrantonio, Jim Dale, Tonya Pinkins, Anna Deavere Smith, and the late Ossie Davis, Raul Julia, Nicole Williamson and Helen Hayes, as well as the first New York stage production featuring Tom Hanks, in 1979.  While at Riverside, McDowell also produced the first Shakespeare Project, a residency of actors from London's Royal Shakespeare Company at The Shakespeare Center, dedicated by Helen Hayes and Joseph Papp in 1981, on Manhattan's Upper West Side.
Prior to coming to Wright State, McDowell was Artistic Director for Grove Shakespeare in southern California, when the company received its first Los Angeles Theatre Critics Circle Award, and in 1993, he received the Los Angeles Drama-Logue Award for Stage Directing for Noel Coward's Private Lives. Since coming to Wright State, he directed two dozen dramas, comedies and musicals, from the classics Show Boat, Threepenny Opera and South Pacific to Jekyll & Hyde, Titanic, Phantom of the Opera, Fences, and Les Miserables, which set departmental box office records, selling over 6,000 tickets in May of 2014.  In the fall of 2015, McDowell directed The Great Gatsby on the 75th anniversary of that acclaimed book's first publication.  In 2016, McDowell wrote and directed the premiere of Restoration! - a resetting of King Lear in 1681 which was heralded as "Best Collegiate Production of a Play" and "Best Direction of a Play" in the press.   The production featured a score composed by McDowell and guest artist and acclaimed composer, Sandy Bashaw. In two decades as Artistic Director at Wright State, the number of subscribers doubled to over 90% of capacity.  McDowell's last production before retirement was directing the Arthur Miller adaptation of Henrik Ibsen's Enemy of the People, heralded as the "Best Collegiate Production of a Play" as well as "Best Director" for the 2019-2020 season, and subsequently praised as "one of the best shows in the university's history" in Dayton Most Metro. 
A member of the national honor society Kappa Phi Kappa, McDowell was honored in May of 2013 with the Arts Award from the Lamda Chapter of the Eta Phi Beta Sorority for "outstanding artistic and historic contributions." 
In 2018 McDowell was awarded the Outstanding Service Award in the College of Liberal Arts of Wright State University.
During the twenty-two years that he served as chair, McDowell's proudest achievement at Wright State was fostering more than a ten-fold increase in scholarship funding for students. McDowell played a major role in establishing numerous scholarships in the department, such as the Tom Hanks, Martin Sheen & Samantha Lavgevin, and Rising Star Scholarships, as well as individual scholarships for local students through the annual ArtsGala at Wright State.  This, along with numerous out-of-state scholarships, placed the department on a nationally competitive footing, while assisting hundreds of students to major in the arts at Wright State. 
McDowell also played a decisive role in securing Tom Hanks as national co-chair of the campus-wide Rise. Shine. Campaign, Wright State University's largest and most successful fund-raising campaign in the university's history, raising over $160 million, to "further elevate Wright State's prominence by expanding scholarships, attracting more top-flight faculty and supporting construction of state-of-the-art facilities."  In support of the campaign, McDowell produced a series of video spots with Hanks endorsing the university; staged benefits for donors in Los Angeles and at both the United Nations and Saardi's in New York; and invited Hanks to give his name to the new Tom Hanks Center for Motion Pictures, a state-of-the-art motion pictures facility which Hanks dedicated in April of 2016.  
McDowell's wide range of interests have included sketching his way through Europe from Amsterdam to Athens to Tel Aviv; working on an archeological dig at Tel Gezer, Israel; training in Commedia dell' Arte with Master Teacher, Carlo Mazonne-Clementi in northern California; studying at the Laterna Magika in Prague, Czechoslovakia during the "Prague Spring" of 1968; interviewing several dozen actors, directors, designers and dramaturges who worked with Bertolt Brecht from Los Angeles to East Berlin; securing a patent in computer hardware design; singing the New York premiere of Krzysztof Penderecki's Passion and Death of Jesus Christ According to St. Luke at Carnegie Hall with the Macalester College Choir under the baton of Dale Warland; and reseaching and photographing the ancient theatres of Pompeii, Italy.  
Education History
B.A., Macalester College; M. A. and Ph. D., University of California, Berkeley
Is this you?
Log in
to update your profile.