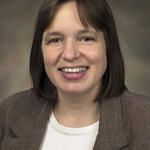 Susan B. Carrafiello,
Ph.D.
Title:
Associate Professor and Director College of Graduate Programs & Honors Studies English
Address:
Millett Hall 235, 3640 Colonel Glenn Hwy., Dayton, OH 45435-0001
Dr. Susan Carrafiello, associate professor of history, was appointed director of the University Honors Program in 2001. She is responsible for the program's main objectives, emphases, and purposes. As the key advocate for the Honors Program, she recruits Honors faculty, plans faculty teaching workshops, and fosters development of new Honors courses and new program initiatives. She works with college deans and department chairs to monitor departmental Honors options. Faculty who would like to teach Honors courses should contact her well before a proposed Honors course is to be scheduled. Honors students who have any concerns or suggestions about any aspect of the Honors Program are encouraged to contact her for an appointment.
Is this you?
Log in
to update your profile.