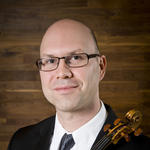 Tom Sobieski, IV,
M.M.
Address:
Creative Arts Center 210R, 3640 Colonel Glenn Hwy, Dayton, OH 45435-0001
Thomas Sobieski
Faculty String Quartet, Violin
M153 CAC
(927)775-2346
tom.sobieski@wright.edu
Thomas Sobieski is currently adjunct at Wright State University, where he teaches violin, World Music classes, and plays second violin in the Faculty String Quartet.  He is currently concertmaster of the Lebanon Symphony Orchestra and has played in orchestras such as the Virginia Symphony, the Richmond Symphony Orchestra of Virginia, and the Dayton Philharmonic.  He has participated in music festivals including CCM's Music-X, a modern music festival, the Grandin Festival, the Aspen Music Festival and the Opera Theater of Lucca, performing opera and chamber music in Lucca, Italy. Tom has appeared as soloist with the Wright State University Symphony Orchestra, CCM Percussion Ensemble and in various recital series and programs around the Cincinnati and Dayton area. Tom earned his BM, MM and AD from the College Conservatory of Music at the University of Cincinnati, where he studied primarily with Dr. Won-Bin Yim and studied chamber music with Lee Fiser, Henry Meyer, Peter Oundjian, William Grubb and Awadagin Pratt.
Is this you?
Log in
to update your profile.