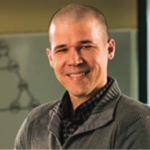 Travis E. Doom,
PH.D.
Department:
Computer Science
Title:
Professor and Associate Dean
Address:
Russ Engineering Center 331, 3640 Colonel Glenn Hwy., Dayton, OH 45435-0001
Travis Doom (Senior Member IEEE, '03) is a Professor and associate chair in the Department of Computer Science and Engineering at Wright State University (WSU). He holds additional courtesy appointments in both the Department of Electrical Engineering and the Biomedical Sciences Ph.D. program. Dr. Doom joined the faculty at Wright State University (Dayton, OH) in 1998 after receiving his Ph.D from Michigan State University (1998).
Professor Doom is a co-director of WSU's bioinformatics research group and pursues research in the fields of undergraduate engineering education, data science, bioinformatics, and digital/computer systems. He applies computational and statistical techniques to identify, retrieve, classify, simulate, characterize, and analyze data from a variety of domains. Much of his research involves the analysis of biological data, including raw instrumentation data, as well as processed DNA sequence, protein sequence, metabolite, or population data. Notable research includes techniques for forensic DNA analysis (cited by the Supreme Court), improved quantification techniques and Kernal-based binning methods for NMR spectroscopic data, isolation and visualization of translational efficiency biases, characterization and synthesis of 1H NMR spectroscopic data, and knowledge discovery in large biological data sets. He served as chair for the IEEE Task Force (Technical Committee) on Bioinformatics 2007-2009.
Dr. Doom would not mind being remembered as someone who spent "too much effort" on his teaching. Dr. Doom is recognized as outstanding educator and educational researcher. He currently holds the position of WSU's Robert J. Kegerris Distinguished Professor of Teaching and a 2014 Southern Ohio Council for Higher Education's (SOCHE) awardee for Excellence in Teaching. He has been a finalist or winner of WSU's College of Engineering and Computer Science teaching award nearly every year in which he has been eligible. Dr. Doom was the 2000 and 2005 recipient of the WSU College of Engineering Excellence in Teaching award, a 2001 invitee to the Ohio Teacher's Excellence Program (OTEP), and a 2002 sponsored attendee of the National Effective Teaching Institute (NETI). Dr. Doom has disseminated his educational work through venues including the American Society for Engineering Education (ASEE), the ACM special interest group on computer science education (SIGCSE), and IEEE Transactions on Education. Teaching interests include both undergraduate and graduate computer science, computer engineering, and electrical engineering courses.
Is this you?
Log in
to update your profile.