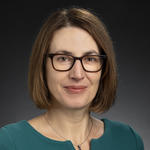 Valerie L. Stoker,
Ph.D.
Department:
Sch of Humanities & Cult. Studies
Title:
Professor, Religion and Brage Golding Distinguished Professor of Research
Address:
Allyn Hall 421, 3640 Colonel Glenn Hwy, Dayton, OH 45435-0001
Valerie Stoker received her B.A. with Great Distinction from the Religious Studies Faculty of McGill University in Montreal, Quebec. Her PhD is from the South Asia section of the University of Pennsylvania's Department of Asian and Middle Eastern Studies. In broad terms, her research examines the relationship between socio-political structures and religious identity. Her principal area of research is late medieval and early modern South Indian Hinduism; her secondary area of research examines the intersection of religion, public opinion, and law in contemporary secular democracies. She has lived and travelled widely in South Asia, Europe, and North America and these diverse international experiences inform her teaching and research. From 2012-2015, she was Co-Chair of the Religion in South Asia Steering Committee of the American Academy of Religion and from 2013-2023, she directed the Master of Humanities Program at Wright State. Currently, she is Associate Chair of the School of Humanities and Cultural Studies.
Teaching
Professor Stoker's courses focus on a range of issues critical to the study of religion. Her tradition-based classes include courses on Hinduism, Buddhism, Jainism, and Sikhism as well as an Asian religions survey course.  She encourages students to explore different facets of religious expression including sacred narratives, theology/philosophy, art and architecture, pilgrimage practices, material culture, rituals, and music. She also teaches courses on religion and the public sphere as well as courses on theories and methods in the study of religion. She was named Outstanding Advisor for the College of Liberal Arts in 2010.
Research
In 2017, Professor Stoker was given an Outstanding Research Award in Wright State's College of Liberal Arts and was named the Brage Golding Distinguished Professor of Research for a three-year term by the university. Her book, Polemics and Patronage in the City of Victory: Vyāsatīrtha, Hindu Sectarianism, and the Sixteenth-Century Vijayanagara Court, was published by the University of California Press as part of the South Asia Across the Disciplines Series. (A free download is available at the link entitled "Polemics and Patronage" at the upper right of this page.) Her work has also been published in several edited volumes and in numerous journals including History of Religions, The Journal of the American Academy of Religion, Numen, The Journal of South Asian Intellectual History, and The Journal of Indian Philosophy. She has edited a forthcoming (2023) volume for Bloomsbury Press entitled A Cultural History of Hinduism in the Age of Empires: 1500-1857.
Professor Stoker has been invited to present her research at various academic institutions including the University of Chicago, Stanford, Oxford, Columbia, and the K.R. Cama Institute. Her work has been supported by several prestigious grants, including a National Endowment for the Humanities Fellowship, a Canadian Embassy Faculty Research Grant, an American Institute of Indian Studies Senior Research Fellowship, and two American Academy of Religion Individual Research Grants. 
Is this you?
Log in
to update your profile.