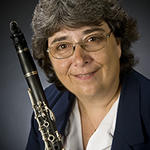 Victoria Lynn Ullery,
M.M.
Address:
Creative Arts Center 085A, 3640 Colonel Glenn Hwy, Dayton, OH 45435-0001
Victoria Ullery
Adjunct Instructor, Music Education
M153 CAC
(927)775-2346
victoria.ullery@wright.edu
A music educator in the Northridge Local Schools, Dayton, Ohio from 1986-2017, Victoria L. Ullery earned a Bachelor of Music in Music Education with Honors, Cum Laude from Wright State University in 1984, a Master of Music in Clarinet from the University of Cincinnati, College Conservatory of Music in 1986 and a Master of Divinity from Bethany Theological Seminary in 1999.  In 2001, the Wright State University Department of Music selected her as the Outstanding Music Alumni Award recipient.
As the first honors student to graduate from the Wright State University Department of Music, her honors project "Frank Simon: History and Influence" was published in the Journal of Band Research in 1988. In addition to her advisor, Francis H. Laws III, at Wright State University, she also worked with Dr. David Simon, son of Frank Simon and Paul E. Bierley, internationally known band historian and scholar, and author of several books on John Philip Sousa.  Her book entitled The Band That Plays Rain Or Shine! The Story of the Dayton Philharmonic Concert Band: The First Twenty-five Years was published in 2011 by Whotkee R. WeYin Publishing.
Since 1987, she has been a member of the clarinet section of the Dayton Concert Band/Dayton Philharmonic Concert Band. Her clarinet teachers have included David L. Keener, Anthony Gigliotti, Carmine Campione, and Randall Paul.  Professional memberships include the Ohio Music Education Association, Music Educators National Conference/National Association for Music Education and Sigma Alpha Iota.
In addition to her musical career, she is an ordained minister in the Church of the Brethren and the Associate Pastor at the New Carlisle Church of the Brethren in New Carlisle, Ohio.  She also serves the Church of the Brethren nationally and the Southern Ohio District providing leadership and music direction.  She is the co-founder of the New Carlisle Leadership Academy and the Whotkee? Remnant Band.
Is this you?
Log in
to update your profile.