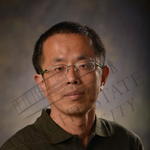 Weiqun Zhang,
Ph.D.
Department:
Lake Campus Science & Mathematics
Title:
Associate Professor, Mathematics
Address:
Dwyer Hall 254, 7600 Lake Campus Dr, Celina, OH 45822-2921
2020/2021 Teacher of the Year Award
2013/2014 Outstanding Faculty Teaching Award
PhD in Mathematics, University of Wisconsin Milwaukee
BS in Computer Science, Nankai University
Research interest: 
Numerical analysis, data science and machine learning.
Courses taught:
Real Analysis
Differential Equations
Probability Theory and Statistics
Numerical Analysis
Linear Algebra
Calculus I, II and III
C/C++ Programming
Engineering Programming with Matlab 
Is this you?
Log in
to update your profile.