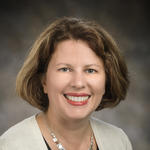 Ksenia Bonch Reeves,
Ph.D.
Department:
Sch of Social Sci's & Int'l Studies
Title:
Professor, Spanish; Associate Chair, SoSSIS
Address:
Allyn Hall 371, 3640 Colonel Glenn Hwy, Dayton, OH 45435-0001
I earned my M.A. from  Middlebury College and my Ph.D. from the University of Wisonsin-Madison. I have taught all levels of Spanish at Wright State University since 2003, including courses such as Spanish as a World Language, The Cultures of Spain, Travel Literature, Hispanic Cinema, and Spanish for Law Enforcement Personnel.  I am particularly interested in community-based learning and have collaborated with a number of local Hispanic-serving organizations, including El Puente Tutoring Center and the local Spanish newspaper La Vanguardia. I coordinate internships for the Department of Modern Languages and have volunteered to teach Spanish at a local elementary school. I have co-authored, with Cecilia McGinniss Kennedy, a community-based textbook titled Sitios (Dubuque, IA: Kendall/Hunt, 2012).
My research interests involve medieval Iberian chronicles, legal texts, and Mediterranean Studies. I am the author of Visions of Unity after the Visigoths: Early Iberian Latin Chronicles and the Mediterranean World (Turnhout: Brepols, 2016) and editor of Text and Concordances of the Setenario of Alfonso El Sabio (Madison: Hispanic Seminary of Medieval Studies, 1999). My articles appeared in journals Viator, Romance Quarterly, and Mediterranean Studies. My current and future research projects involve the transition from manuscript to print culture during the sixteenth century, Cervantes, and law and literature.
Is this you?
Log in
to update your profile.