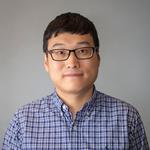 Yang Liu,
Ph.D.
Department:
Mathematics & Statistics
Title:
Assistant Professor
Address:
Math/Microbiology 141, 3640 Colonel Glenn Hwy, Dayton, OH 45435-0001
Education
Ph.D. in Statistics, Bowling Green State University, OH USA, 2015
M.S. in Statistics, Wuhan University, Hubei China, 2009
B.S. in Mathematics, Wuhan University, Hubei China, 2007
Professional Experience
Assistant Professor, Department of Mathematics and Statistics, Wright State University, Dayton, 2018-Present
Postdoctoral Research Fellow, Biostatistics Program, Fred Hutchinson Cancer Research Center, Seattle, 2015-2018
Research Interests
Statistical genetics, genomics
High dimensional statistical inference, feature selection, dimension reduction
Computational statistics, machine learning, graphical models
Selected Publications
Liu, Y., Sun, W., Hsu, L., & He, Q. (2022). Statistical inference for high-dimensional pathway analysis with multiple responses. Computational Statistics & Data Analysis, 107418.
He, Q.*, Liu, Y.*, Liu, M., Wu, M. C., & Hsu, L. (2021). Random effect based tests for multinomial logistic regression in genetic association studies. Genetic Epidemiology, 45(7), 736-740.
Liu, M.*, Liu, Y.*, Wu, M. C., Hsu, L., & He, Q. (2021). A method for subtype analysis with somatic mutations. Bioinformatics, 37(1), 50-56.
Yang, J., Liu, Y., Liu, Y., & Sun, W. (2021). Model free estimation of graphical model using gene expression data. The Annals of Applied Statistics, 15(1), 194-207.
Liu, Y., Sun, W., Reiner, A. P., Kooperberg, C., & He, Q. (2019). Statistical inference of genetic pathway analysis in high dimensions. Biometrika, 106(3), 651-651.
Liu, Y., He, Q., & Sun, W. (2018). Association analysis using somatic mutations. PLoS genetics, 14(11), e1007746. 
He, Q.*, Liu, Y.*, & Sun, W. (2018). Statistical analysis of non-coding RNA data. Cancer letters, 417, 161-167. 
Liu, Y., & Wang, P. (2018). Selection by partitioning the solution paths. Electronic Journal of Statistics, 12(1), 1988-2017.
He, Q.*, Liu, Y.*, Peters, U., & Hsu, L. (2018). Multivariate association analysis with somatic mutation data. Biometrics, 74(1), 176-184. [* Equal contribution]
He, Q., Cai, T., Liu, Y., Zhao, N., Harmon, Q. E., Almli, L. M., ... & Wu, M. C. (2016). Prioritizing individual genetic variants after kernel machine testing using variable selection. Genetic epidemiology, 40(8), 722-731.
Is this you?
Log in
to update your profile.